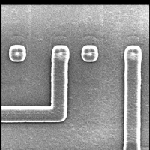 Real Time Verification
Today's mask costs and manufacturing cycle times induce many sleepless nights for everyone on the product team. You might find yourself asking the questions: Are my simulation models correct this time? Do we need to respin another mask set and at what cost in time and money? If my design does not perform exactly to specifications, will we be able to meet the customers scheduled timeline? FIB-X's FIB circuit modification can help you sleep easier by testing your design improvements in a timely manner giving you the assurance that your design will operate to specification, thus reducing the chances of another respin and avoiding the costs of another mask set.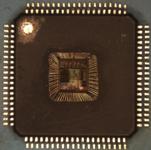 Customer Samples
Don't worry if your devices are packaged. We have the equipment and experience to decapsulate your device, exposing it for FIB modifications and or debug. We also offer encapsulation for safer handling by your customers or for clam-shell sockets that apply pressure to the top of the device. In some cases, you might want a temporary lid fixed to the top of your device which we can also provide.