FIB-X Services L.L.C.
Located in Plano,Texas and established in 2003, FIB-X is comprised of dedicated individuals with over 30 years experience in the art of FIB nano-fabrication. We understand that in order for us to succeed, our customers must succeed. This is why quality of service and attention to detail are the primary focus of this company. FIB-X is constantly developing new techniques and expanding the knowledge base that is necessary for high yield design modifications in an ever increasingly difficult field.

EQUIPMENT
We are continualy upgrading and maintining our equipment to keep up with our customers' demands and needs.

FEI Thermo Fisher Helios 660 G3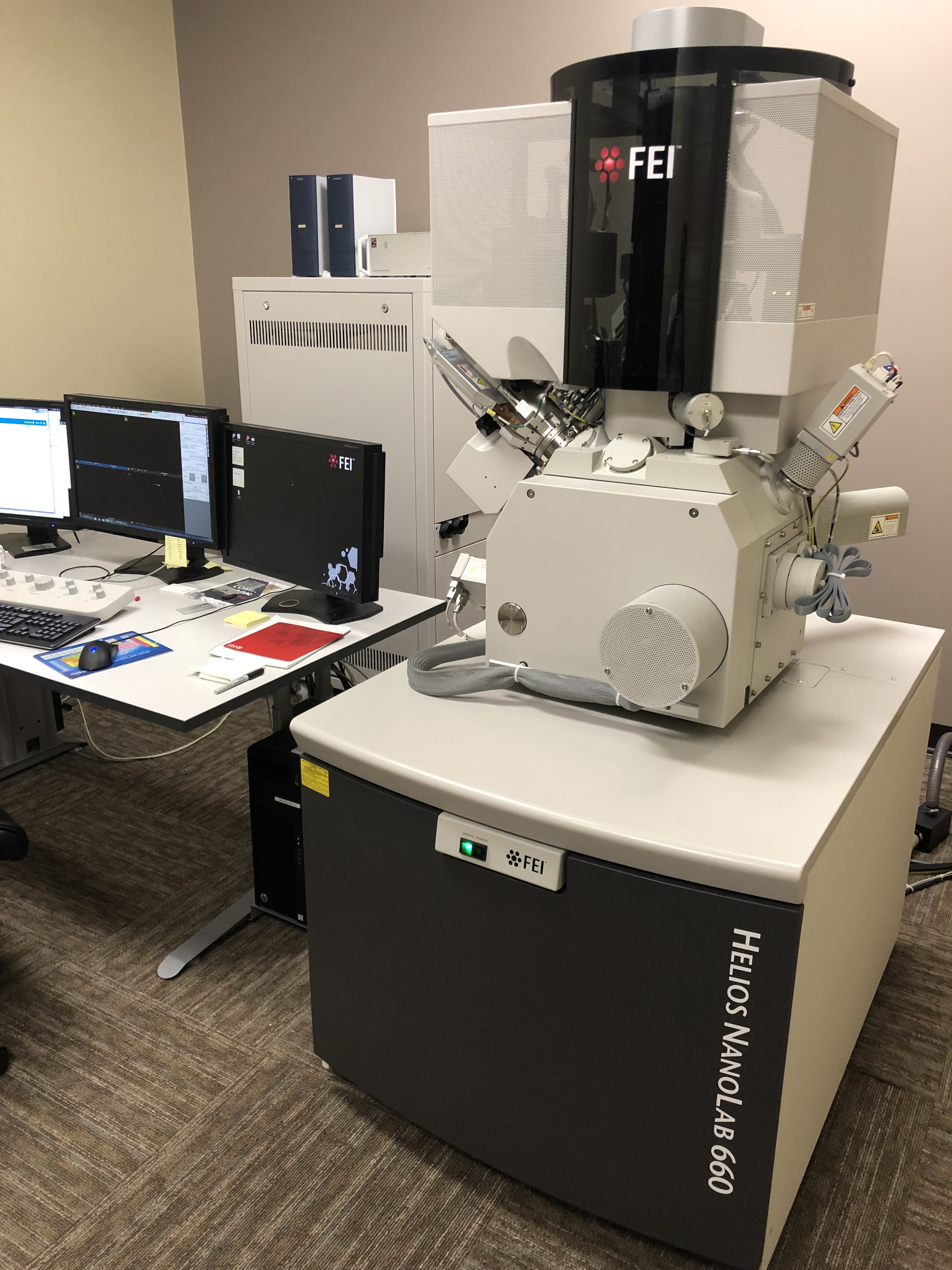 The FEI Helios 660 FIB is the Cadilac of Focused Ion Beam systems. Optimised for high resolution semiconductor operations digital rock data production. Equipped with MAPS mosaic tile stitching and Auto Slice & View 3D tomographic cube generating software, with simultaneous detector acquisitions, (BackScatter, Secondary,X-Ray) the Helios is a fantastic all in one nano-fabrication machine generating jaw-dropping datasets unlike anything you have seen before.
Specifications:
*Thru-Lens detectors (BSE & SE)
*Large Stage Range : 110 x 110 x 8mm
*Analytical WD 4mm
*ICE detector
*DBS GAD detector
*Largest Tilt Range -15 deg to 90 deg
*1kV Resolution 0.9 nm

FEI Teneo SEM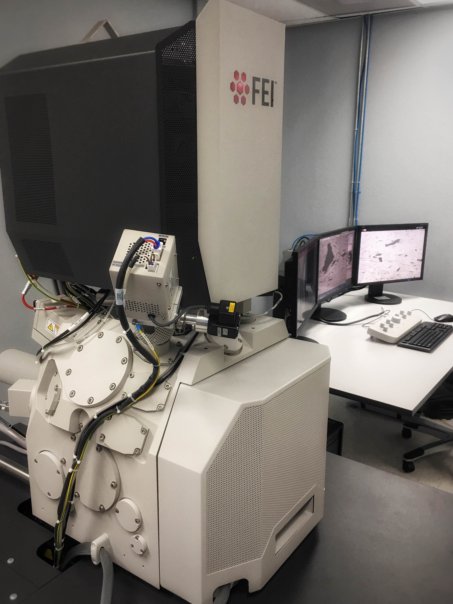 The FEI Teneo SEM was designed for difficult to image samples, such as geological, biological, magnetic, and other non-conductive specimens. FEI Teneoís in-column back scatter detector (BSE) and secondary electron detector (SE) are sensitive enough to obtain simultaneous high resolution and contrast imaging at 500V. Because of the high beam current range (up to 400nA) and detector sensitivity, we are able to perform efficient 2D mapping with exceptional image resolution. By giving you more data at lower costs, FIB-X wants to change how you feel about digital rock.
Specifications:
*In-Lens detectors (BSE & SE)
*NICol SEM Column
*Large Stage Range : 110 x 110 x 65mm
*Analytical WD 10mm
*STEM detector
*DBS GAD detector
*Largest Tilt Range -15 deg to 90 deg
*1kV Resolution 1.4 nm with BSD

FEI DB235 Dual Beam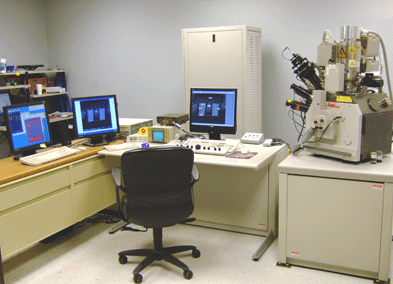 This is a highly analytical tool allowing you to request precise cross sections and receive high quality SEM images. It is a dual column FIB with an ion beam column and a SEM column at a 52 degree angle from eachother which allows for simultanious cutting and SEM imaging under vacuum enabling efficient defect hunting and minimizing contamination. Once we find your defect we can use our Bruker EDS insitu to determine what contaminants we are seeing in the cross section.
Specifications:
*Schottky FEG SEM
*FEI Magnum FIB Column
*Bruker Quantax 200 EDS (elemental Analysis)
*Pt deposition
*Gas assisted etch (metal and dielectric)

DCG P3X Circuit Mod Tool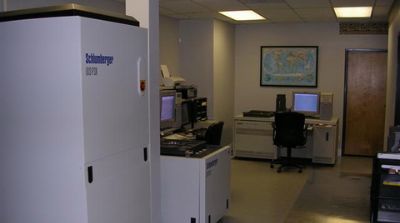 Regarded as one of the most efficient ciruit modification tools, FIB-X has 2 P3X systems installed that are capeable of 45nm copper top down circuit edits all the way up to Gold GaAs devices.

Specifications:
*< 5 nm Resolution
*CAD navigation (both Schlumberger and Knights)
*Pt deposition
*Gas assisted etch (metal and dielectric)
*Insulator deposition (Si02)
*Copper Etch
*8Ē wafer capability

Fischione Model 1060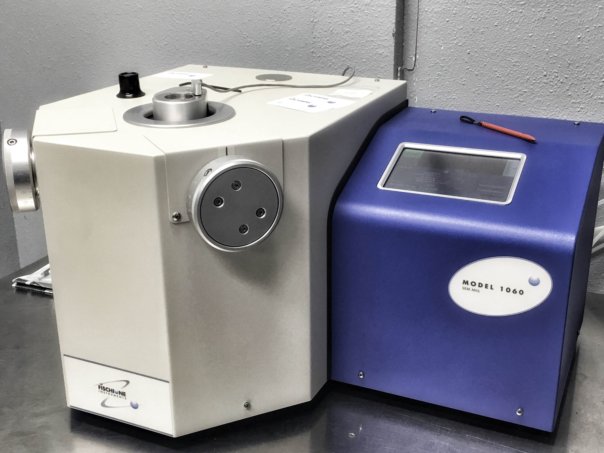 The Fischione Model 1060 SEM mill is perfectly designed for sample preparation of geological samples, such as shale. An extremely smooth surface is paramount when obtaining high resolution BSE SEM imaging on non-conductive geological samples. Two independent TrueFocus ion sources with adjustable beam diameters give FIB-X unmitigated control of the mill rate when preparing a sensitive semiconductor sample or a geological sample. The Fischione Model 1060 SEM mill can prepare samples up to 25 mm (diameter) x 15 mm (height). The relatively large sample accommodation allows for an opportunity to investigate more locations across your sample.
Specifications:
*Two TrueFocus ion sources
*25mm (diameter) x 15mm (height)
*360 deg sample rotation
*Variable energy 100eV to 6.0 keV
*Specimen rocking

Who are the FIB guys?
Richard San Martin: FIB Operations Manager
Richard San Martin has over 14 years of circuit modification experience. He has a Bachelorís degree in Physics from the University of Texas, Austin. Before joining FIB-X, Richard obtained Member, Group Technical Staff at Texas Instruments while perfecting his FIB skills. Richard has edited thousands of devices which include advanced analog, mixed-signal, RF, and 65nm Copper technologies. Richard continues to research new methods which make FIB circuit modifications more efficient and reliable. When Richard is not chained to the FIB, he enjoys computer gaming as well as joining his wife for a ride on their horses across countryside. Richard also enjoys developing websites in his spare time.
Jason Parker: Business Manager
Jason Parker has over 19 years of industry experience. He has a Bachelorís degree in Electrical Engineering from Texas A&M University, College Station. Before joining FIB-X, Jason obtained Member, Group Technical Staff at Texas Instruments while leading a team to implement design debug capabilities. He has worked with FIB, E-beam, and an assortment of failure analysis equipment and software for his entire career within the semiconductor industry. When Jason leaves the FIB cave, he enjoys spending time on the lake with his wife, daughter, and son (twins!).
Johnny Perez: Senior Analyst
Johnny Perez has been with FIB-X since August of 2003. Johnny's specialties include: Advanced Analog design modification and debug using the FIB, decapsulation, and encapsulation. During his time away from FIB-X Johnny enjoys spending time with his family, cruising in his Mustang GT, or taking adventures with his four-wheeler. Johnny is known as the "Gadget Guy" having almost all of the current high tech gadgets from the PS3 to more than few different models of iPod. If you're looking for a personal review on a product, feel free to ask.
Lallen Hagemann: Accounting/Device Analyst
Lallen joined the team in September of 2004. Lallen's specialties include all steps in the accounting processes from invoicing, financial reporting and analysis, collections, and payroll. When not involved in the accounting processes, Lallen turns his attention to detail to FIB operations. He has learned how to FIB, encapsulate and decapsulate ICs so he can help you out on the phone whether it's a technical question or an accounting question.
Shawn Hiller: Device Analyst
Shawn has been with the company since August of 2007. Shawn is a native Northern California resident who recently relocated to Texas with his family after retiring from the California Highway Patrol. Shawn served as a Traffic Officer as well as a Drug Enforcement Officer until his career was cut short when he was injured in the line of duty. Shawn enjoys his new career as a Focused Ion Beam Analyst, bringing the spirit of California to the Texas FIB lab. He takes his beard and workouts seriously. Shawn is a certified Cross-Fit Trainer and works out 5 days a week.
Joe Wright: Device Analyst
Joe joined FIB-X in 2008 where he came from Texas Instruments with over 8 years of Dual Beam experience. Joe is happy to work with customers to determine what they are looking for. In his spare time he enjoys digital photography and graphics design.
Jarod Swindel: Device Analyst
Jarod is our decap specialist and doubles as our courier for local deliveries and pickups. If you think Jimmy John's is fast, wait till Jarod delivers! Jarod enjoys outdoor activities and PC gaming as well as XBOX live. Favorite tiltes include Call of Duty and World of Warcraft =0